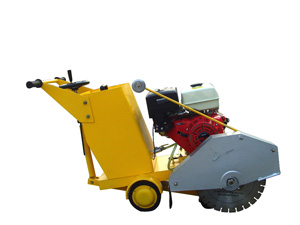 Floor Saw VLD18/20: suitable for cutting asphalt or concrete of steel or cobble structures. The concentric design of the steel box and outer spheric seating of the bearings reduces vibration greatly, ensures the output of the water from the conjointed water tank, prolongs the service life of the blades. the protective device of the bearing keeps the dust out.

Features:
1.Convenient movement with wheels.
2.Fixed steel bracket to ensure the straight in line cutting without vibration and to prolong the service life of the blade.
3.Equipped with outer spheric seating bearings to prolong the service life.
4.Reasonably designed length of the handle to ensure the comfort of holding.
5.Easy adjustment for the cutting depth with lifting or descending.
6.Adjustable height of blade guard to make it convenient for change of blades.
7.Conjointed water tank to optimize the spray of water for the blade to prolong its service life.
8.Better power output with stable throttle control system.
9.Protective equipment for the output bearing to keep the dust out, prolong the service life of the machine and to improve the efficiency.
| | |
| --- | --- |
| Model | VLD18/20 |
| Type of engine | Honda (Robin, Yamaha, Kohler, or B&S available) |
| Power ( horse power) | 9or13 |
| Weight(kg) | 190 |
| Maximum cutting depth (centimetre) | 23 |
| Diametre of the blade shaft | 50 |
| Blade diametre ( centimetre) | 30-50 |
| Rotation direction of the blade | downward |
| Cutting depth adjustment | by twisting the handle |
| Way to advance | push by hand |
| Dimension of the water tank ( litre) | 28 |